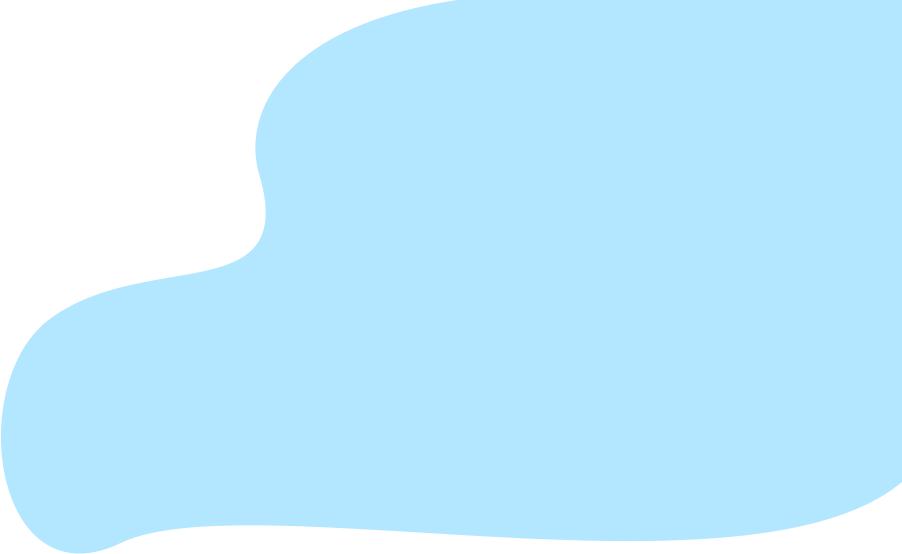 Use cases
Talent Retention
Understand employee behaviour and the impact on employee retention
How we do it
AI enabled
Analyse signals and behaviours indicative of employee retention
Turnover

Identify the key drivers of employee turnover

Cost

Quantify the cost of turnover

Onboarding

Understand issues with onboarding new employees
What is employee retention software?
Employee retention software, also known as talent retention software, is a tool used by organisations to understand employee behaviour.
It allows companies to gain insights into their staff's performance and engagement levels.
Employers can analyse different metrics such as:
Employee turnover.

Absenteeism.

Employee tenure.

Rate of promotions.

Employee engagement and more.
Teams can assess their performance with this information. This makes it easier to make decisions about how to keep workers engaged and motivated.
Employee retention software offers a user interface which is easy to use. It combines analytics to help managers understand their workforce's needs. Real-time data helps us understand which actions will improve worker loyalty and reduce turnover rates. Knowing this information is essential for making the right decisions.
Why is employee retention analytics important to employers?
Employee retention analytics is valuable to employers. It helps them grasp their staff and the reasons why they might leave. Talent employee retention software helps employers gain insights into turnover patterns. They can analyse data on existing employees and predict future departures. This helps them develop strategies that will keep their most valuable employees engaged, motivated and loyal.
Employers can better understand their current staff and plan for future recruitment. They can also create incentives to make the organisation an attractive place to work and draw in potential hires.
What are the benefits of using employee retention software?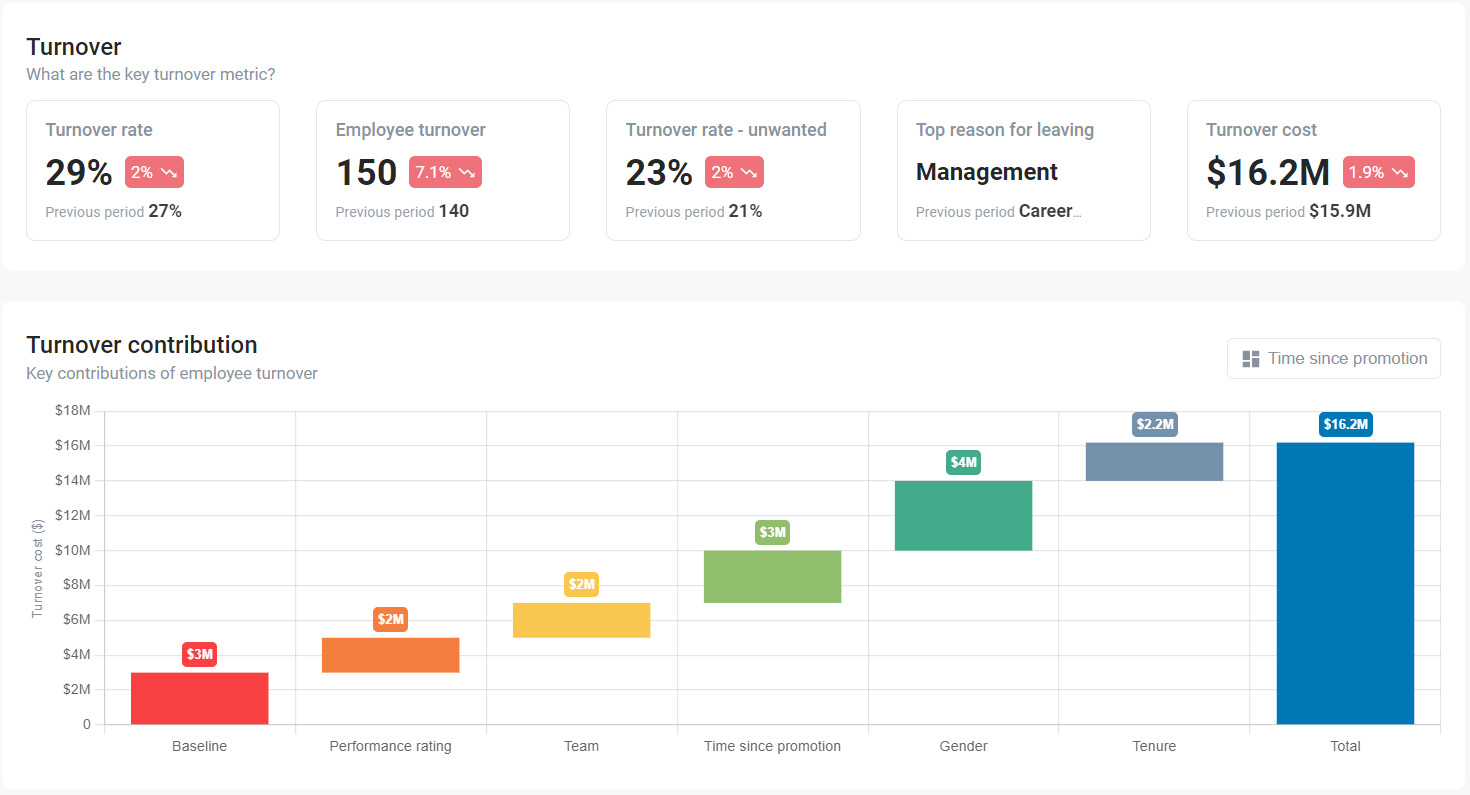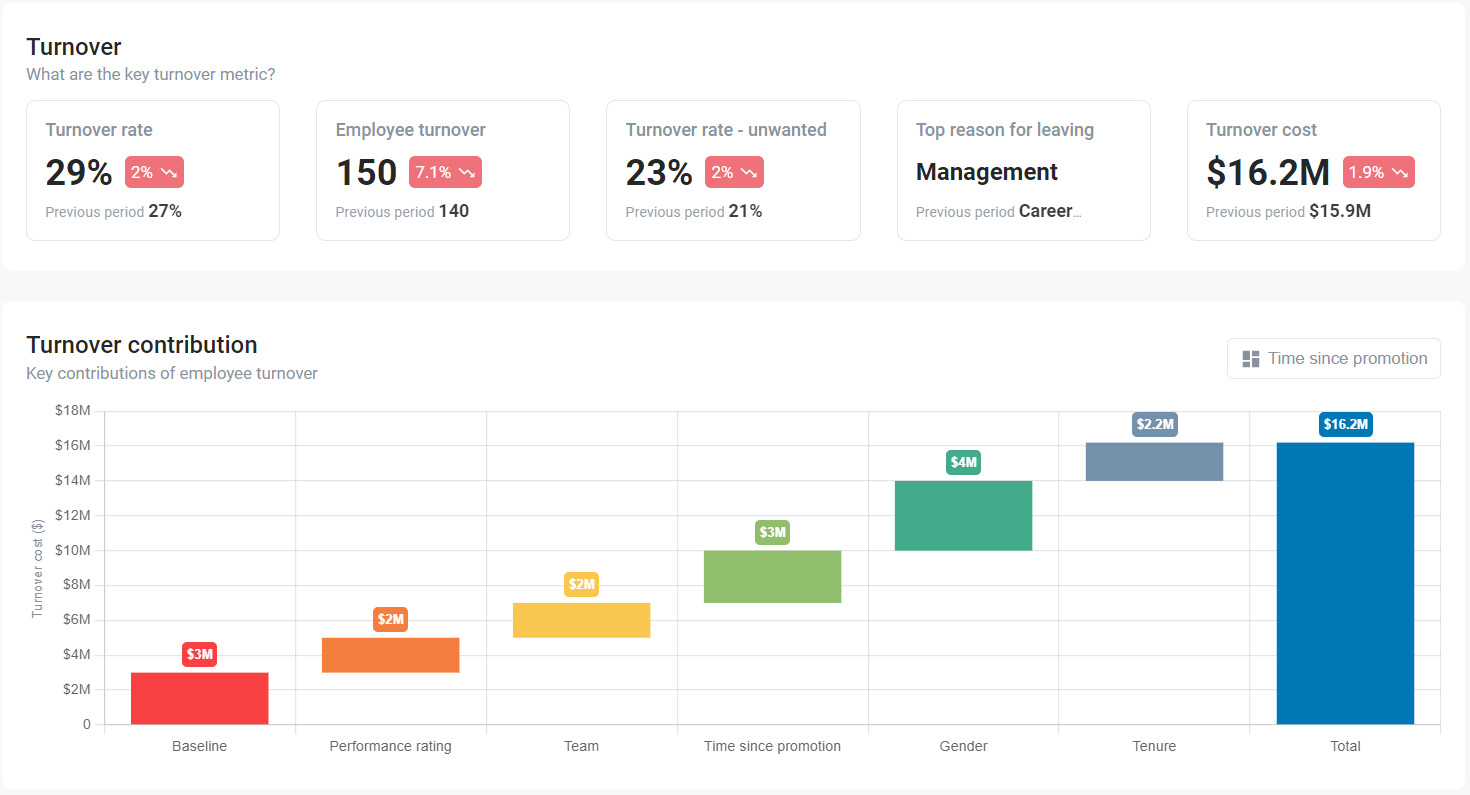 The most significant benefits of employee retention software are:
Reduction in turnover costs which can be between 50-200% of an employee's salary according to Gallup.

Prioritise limited resources into areas that require the most attention and have the biggest impact on reducing turnover costs.

Save time by automating the analysis required to make decisions.

Rate of promotions.

Employee engagement and more.
What should businesses look for in an employee retention software?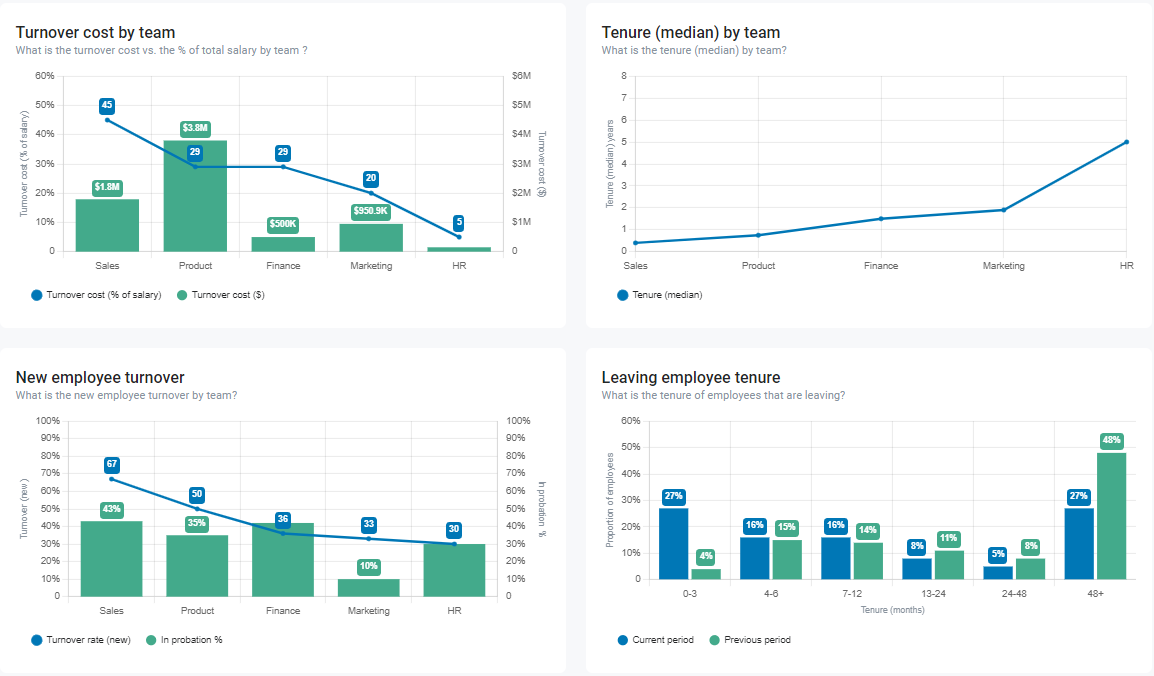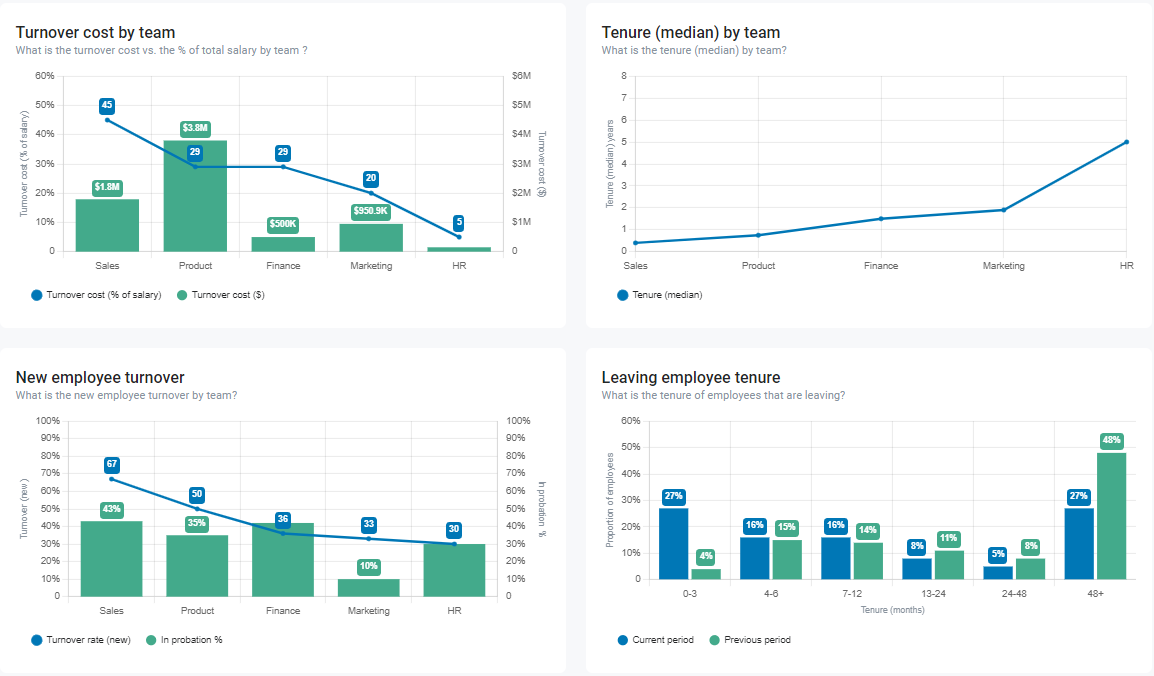 The key features that businesses should look for in employee retention software are:
Answers questions which have a commercial impact on the business.

A user interface which is user friendly and easily understandable.

Integration to systems which captures a broad range of employee characteristics and behaviours such HR, communication, productivity and financial data.

Leverages predictive analytics.

Implements industry best practise information security frameworks.

Is designed with employee privacy as a core principle.
What makes Culturate stand out?
Culturate has a range of features that allows organisations to realise the benefits of employee retention analytics.
Pre-prepared reports

Analysis of the most valuable commercial use cases based on industry experience and feedback.

Intuitive dashboard

Our software presents the data in a user-friendly interface.

Integrations

A broad range of systems across HR (HRIS, ATS, payroll), communication (calendar, messaging, emails), productivity (CRM, ticketing) and financial data can be captured.

Artificial intelligence

Leverages advanced data science and predictive algorithms to identify and predict employee turnover.

Security by design

ISO 27001 certified which is industry best practise.

Privacy by design

Has employee privacy at the core of its design so that personal data is anonymised and analysis is aggregated.
Who is our product best suited for?
Culturate's retention analytics software is ideal for organisations. It helps them gain insights into their workforce and make decisions about employee retention based on data.
Some examples of organisations that may benefit from using workforce analytics software include:
Large corporations with a significant number of employees, where a vast amount of data is generated and needs analysis.

Companies that want to identify the root causes of their high employee turnover and implement solutions.

Companies that want to improve employee engagement, satisfaction and retention.
How much does employee retention software cost?
The pricing of our employee retention software might differ based on the size of your enterprise and the features you may need.
Contact us today to request a demo or a detailed quote on our services. You may also try Culturate's ROI calculator to determine the potential value of our employee retention software for your business.